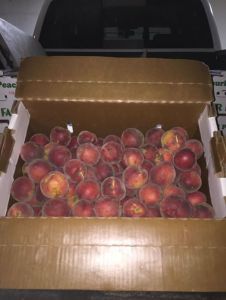 Nutrition
No matter the variety, all peaches are packed with natural goodness. They're not only delicious, but incredibly nutritious. Several major nutrients, including vitamins A (beta-carotene), C and potassium are packed into each peach. They're also an excellent source of fiber, good for blood sugar and keeping cholesterol low.
And, a real plus for calorie counters, a medium-size peach contains only 38 calories, fewer than comparable-sized apples or pears. In addition to being low-calorie, like all fruits and vegetables, peaches are cholesterol-free. Another plus: peaches are especially filling. Their 87 percent water content makes them a perfect between meal snack. But there's more. Peaches also provide natural plant compounds called flavonoids, which research suggests may help prevent cancer and heart disease.
What to Look For When Choosing Peaches
To ensure you bite into a juicy, sweet peach when you get home, look for these qualities when selecting peaches:
An even background color of golden yellow for yellow peaches, and creamy yellow for white flesh peaches.
(Note that the red blush characteristic of some peaches does not indicate ripeness.)
A well-defined crease.
A slight give to the flesh — neither rock-hard nor mushy.
Avoid fruit with green around the stem (they aren't fully ripe) or that have shriveled skin (they're old).
Most importantly, find fruit that smells how you hope it will taste.
Peaches bruise easily, so don't use your fingertips to check for firmness. Instead, hold the peach in your whole hand.
Peach Measurements
One bushel = about 50 pounds of peaches
One pound = about 4 cups sliced peaches
One bushel = about 12 quarts of canned peaches
One pound = 3 medium or 2 large peaches
About 10 peaches will make a 9-inch pie
One peck = one-quarter of a bushel