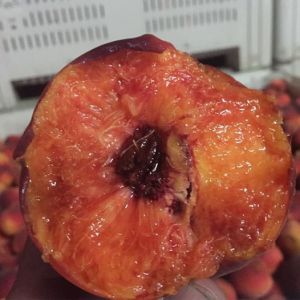 Stone fruit of all kinds are a great seasonal summer treat and peaches are a perennial favorite.
The peach is a member of the rose family, cousin to apricots, cherries, plums, and almonds. When you buy peaches at Bader Farms, you'll find a wide variety that matures at various times of the year. Bader Farms plant orchards with a range of trees to extend our harvest season — a combination of early ripening, mid-season, and late-harvest fruit means peaches to sell for months instead of weeks. Ask us about the traits for the varieties we offer.
When to Buy Peaches
Local peaches are not available everywhere. Peach trees flower fairly early in the spring and the flowers are easily damaged or killed by temperatures below about 28° F (−4° C). You won't find local peaches in places where temperatures dip below freezing well into spring, but the rolling hills of Crowleys Ridge have the perfect land and weather to grow the world's best peaches.
How to Buy Peaches
To ensure you bite into a juicy, sweet peach when you get home, look for these qualities when selecting peaches:
An even background color of golden yellow for yellow peaches, and creamy yellow for white flesh peaches. Note that the red blush characteristic of some peaches does not indicate ripeness.
A well-defined crease.
A slight give to the flesh — neither rock-hard nor mushy.
Avoid fruit with green around the stem (they aren't fully ripe) or that have shriveled skin (they're old).
Most importantly, find fruit that smells how you hope it will taste.
Note: Peaches bruise easily, so don't use your fingertips to check for firmness. Instead, hold the peach in your whole hand.
How to Store Peaches
Store peaches on the counter at room temperature until they are the ripeness you prefer. When ripe, peaches should be stored in the crisper bin of your refrigerator where they will keep for up to five days.
Have more peaches on hand than you can eat or bake up right away? Peel and slice them, lay them on a baking tray and stick in the freezer for a few hours until they're frozen through. Transfer the peach wedges to a resealable plastic bag and freeze until ready to use. They'll keep at least six months (longer in a free-standing freezer) and are perfect to use in baking.
Tip: To quicken the ripening process, place peaches in a paper bag.