Bader Peach Farms Inc. Campbell, MO. – where every day is just peachy!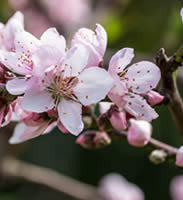 Like many youngsters growing up in the Bootheel region of Southeast Missouri, Bill Bader worked on peach farms each summer, picking, grading, packing, whatever was needed. That peach fuzz got under his skin and in 1986 he bought a 150-acre peach farm near Campbell, Missouri.
Bader found the Crowley's Ridge soil fertile with good protection from frost. That good soil and Bader's hard work has since increased that small farm to over 1,000 acres with nearly 110,000 trees! Bill and his wife, Denise, along with sons Levi and Cody, and daughter Breana, proudly operate the family farm throughout the year. They are assisted by Tom and Steve Bader, Bill's brothers, cousin Danny and numerous other relatives and friends at harvest time. During the summer months, Bader Farms employs about 110 workers. They begin picking the peaches at 6:00 am and then the peaches are brought in from the field, washed, inspected, packed and shipped to your retail grocer within 24 hours. Bader peaches are fresh and delicious right from the tree to you!

Quality Peaches by the Bushel or Truckload!